East Midlands needs "sharp elbows", says council leader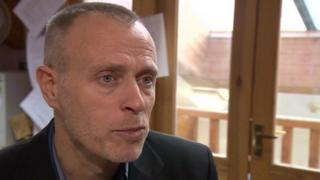 The East Midlands needs to have "sharper elbows" in the competition for government funding, according to one of its leading politicians.
Councillor Jon Collins is chairman of East Midlands Councils, the cross-party group that lobbies ministers. But he warns the region could lose out to others pitching for government investment.
"We need to make sure our voice is heard long and loud, certainly as loud as other regions," he told me.
Mr Collins is also leader of Nottingham City Council and has represented the inner-city ward of St Ann's for 26 years.
But in his new role as leader of East Midlands Councils, his challenge is to speak up for a region with a population of four and a half million, and that's not easy.
"It's been a problem in the past because we're quite a diverse region and there are a range of priorities, " he said.
The Cure
"Each part of the region argued its own case with its own support and sometimes that created a background noise rather than a clear voice."
So is there an easy solution or is there a danger the East Midlands could be sidelined in the regional power play for government funding?
"I think we need sharp elbows. That's what we've got to develop. We've got a good case but we've just forgotten to articulate it and get it across to ministers."
Away from politics, his big passions include following Watford Town football club, the music of The Cure and cycling.
And it's transport - including the building of the Nottingham tram - that's dominated his 10 years as city council leader. It looks set to shape his new regional role.
"On railways, we've got to ensure the electrification of the Midland Main Line goes through and improve the Castle Line from Newark to Lincoln," he said.
"But more than that, there are sites across the region we want to get back into use largely for manufacturing and business.
Strong case
"Those sites need to be reclaimed and we need a little bit of money from government to kick start them.
"That gives us the opportunity to build investment in the region and get more jobs."
That may matter even more if the Scots vote for independence and the English regions spoil for a fight over future funding and devolution from Whitehall.
Councillor Collins makes a strong case for the East Midlands not to be overlooked in the funding lottery.
"We are in the middle of the country and we can get to markets across the UK and to the ports pretty easily. We've got that advantage," he added.
"It's also a lot cheaper living in the East Midlands than say in London and the South East.
"But need to be clear about our priorities. We need to identify those few projects and changes from government that would make a difference for the area."
In 2014, Jon Collins will be the local politician increasingly in the spotlight speaking for his city and now for the region.