Missing Rania Alayed: Mother's body may have been moved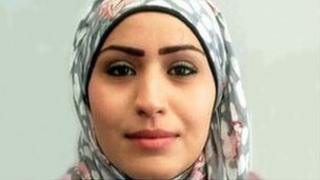 Police hunting for a missing Manchester woman believed to have been murdered have said her body may have been moved from its initial hiding place.
Rania Alayed, 25, from Cheetham Hill, has not been seen since 7 June.
Extensive searches of the A19 near Thirsk for the mother-of-three's body have drawn a blank.
Her husband and brother-in-law have been charged with her murder. They have both denied the charges and will face trial in April.
'Determination never diminished'
Det Ch Insp Pete Marsh, from Greater Manchester Police, said he believed the body may have been in a van, seen on CCTV, in the early hours of June 8 and buried or concealed at the northbound carriageway of the A19.
He said he was now investigating if the body was then moved to a different spot in the period between her disappearance and when she was reported missing on 2 July.
Mr Marsh said: "It took us three or four weeks before we knew Rania was dead from the time she was killed.
"We believe her body was brought here. The question I have got to ask is, 'Has she been moved in that four-week period?'"
He said the search would not stop until she was found.
"I know it's been more than six months since Rania was taken from her family, but our determination to find her has never diminished.
"It would probably have taken two people to move the body and they would have required a large suitcase or some carpet to conceal her," he said.
"It would be out of the ordinary, it would not be someone just nipping into the bushes for a call of nature."
His comments came as Ms Alayed's uncle Ali Aydi paid his respects to her at the A19 lay-by near Thirsk.
Mr Aydi, a Syrian living in Lebanon, left flowers at a site where his niece may have been dumped.
He said it had been a "very difficult time" for her parents who live in Lebanon.
Mr Aydi said: "She leaves behind three children who face life without her. Her body is still to be found, so we can give her a dignified burial.
"We are grateful to the community and the police for all they have done and continue to do."
The search of the A19 was scaled down by police in September.
Police believe Ms Alayed, who was originally from Norton on Teesside, was last seen on 7 June at about 19:30 GMT on Rodney Street, near Arthur Millwood Court, Salford.
Mrs Alayed's husband Ahmed Khati, of Gorton, and brother-in-law Muhanned Mahmood Al Khatib, of Salford, are accused of her murder.
They have both pleaded not guilty. A trial date has been set for 30 April.
Hussain Al Khateeb, 34, from Gorton, has been charged with perverting the course of justice. He is expected to enter a plea in his next hearing at Manchester Crown Court on 17 January.