'Fast Eddie' pursuit and trial cost public £30,000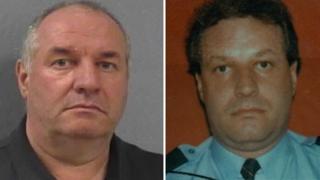 Almost £30,000 of taxpayers' money was spent on bringing to justice a security guard who stole £1.17m and spent 19 years on the run in the United States.
Eddie Maher, 58, was jailed for five years last March for stealing a security van containing the money from Felixstowe, Suffolk, in 1993.
Figures released under the Freedom of Information Act revealed £17,195 was spent on returning Maher to the UK.
A further £12,741 was spent on legal aid to defend him.
Maher, who became known as Fast Eddie, was working as a cash-in-transit guard for Securicor when he vanished after driving away from Lloyds Bank.
The ex-London firefighter and pub landlord, formerly of South Woodham Ferrers, Essex, is thought to have arrived in the United States a month after taking the money.
He was eventually arrested over immigration and firearms offences in February 2012 before being deported to the UK.
The Freedom of Information request by the East Anglian Daily Times revealed Suffolk Police's costs included £9,259 on overtime and £5,279 on transport, including £1,989 on air fares.
Confirming the cost of legal aid, the Ministry of Justice said anyone facing a crown court trial could apply for the funding.
Despite being quick to invest his money, buying a house in Colorado with $120,000 (about £75,000) in cash just six months after the theft, Maher was declared bankrupt in 2010.
In September it was revealed that Maher's £129,000 fire service pension was to be seized under the Criminal Justice Act.