South Western ambulance's 'demanding' new year calls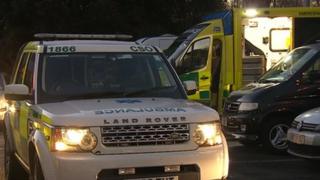 More than 2,000 emergency calls were made to the South West ambulance service between 18:00 GMT on New Year's Eve and 06:00 GMT on News Year's Day.
The South Western Ambulance Service NHS Foundation Trust covers Cornwall, Isles of Scilly, Devon, Dorset, Wiltshire, Gloucestershire, Bristol, Somerset and South Gloucestershire.
The 2,037 figure was down slightly on last year's 2,240 calls.
"Despite a very slight fall, it was a demanding night," a spokesman said.
Neil Le Chevalier, the trust's director of delivery, said the greatest number of calls came during the hours of 02:00 and 03:00 GMT.
Alcohol Recovery Centres
"We were very busy - compared to the rest of the year, there was a 300% rise in the new year peak time calls and most of these were drink related," he said.
Those assessed by paramedics as simply having had too much alcohol were taken to special Alcohol Recovery Centres (ARCs) across the region, including Plymouth, Bristol, St Ives and Bideford, rather than hospitals.
Funded by the NHS, ARCs are run with police, the ambulance service, health organisations and the National Licensed Trade Association.
"The centres are staffed by paramedics and nurses and people brought in can sleep it off safely without backing up emergency departments," Mr Le Chevalier added.