Chiswick 'explosion': Elderly woman airlifted after flat fire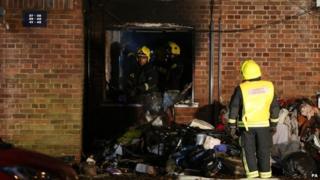 An elderly woman has been airlifted to hospital after a fire broke out in a flat in Chiswick, west London.
About 30 firefighters were called to the blaze in Edensor Gardens just before 15:00 GMT.
London Fire Brigade said it was investigating reports of an explosion at the five-bedroomed flat on the ground floor of the three-storey block.
London Air Ambulance said the woman was being treated at Royal London Hospital for burns.
Two men were treated at the scene for smoke inhalation but did not go to hospital. There were no other injuries reported.
The brigade said the fire was now under control and investigators were assessing the cause of the fire.
Fed-Ex courier John Greenman, 34, from Camden, north London, was making a delivery to a flat in Edensor Gardens when he heard a blast.
He said he saw flames coming out from one of the flats.
"Then there were two mini explosions. It was quite shocking. I was surprised because no-one was moving they were still just standing around staring at it," he said.
"I could see the flames getting higher and there was a young girl leaning out of the window to the left above the flames.
"I think someone was cleaning windows or something because there was a ladder leaned up against the wall nearby and they managed to get her and I think her mother out of the window before the fire services turned up."