South West Trains passengers face further disruption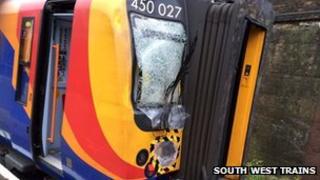 Rail passengers face further disruption in south and south-west England as storm damage repairs continue into the New Year.
South West Trains said its staff were working "round the clock" to clear up after strong winds and heavy rain caused 140 trees to fall onto the tracks, flooding and damage to trains.
Some lines in Hampshire and on the Isle of Wight remain closed.
The rail provider said "93% of normal services" would be running on Thursday.
'Smashed windscreens'
The line between Petersfield and Haslemere will remain closed until Monday "at the earliest" after a major landslip between Liss and Liphook, South West Trains said.
On the Isle of Wight, Island Line services remain suspended as work continues to repair severe track damage in 20 different locations near Ryde. Repair work is expected to take several weeks.
South West Trains said alternative transport had been put in place for passengers in the areas which require "more extensive repair work further into January".
It added four miles of track had been flooded and water levels were recorded up to 5ft-high (1.5m) in some areas.
About 20 trains also suffered smashed windscreens, water damage and damage to bodywork.
Tim Shoveller, managing director of the South West Trains-Network Rail Alliance, thanked customers for their "patience and understanding".
"We are continuing to monitor the weather forecast and have been advised that more stormy conditions are likely over the next few days," he added.