Yorkshire Tour de France volunteers exceed 20,000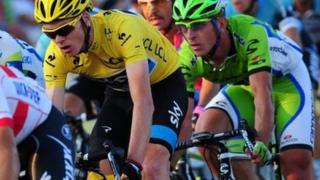 More than 20,000 people have volunteered for Yorkshire's leg of the Tour de France in July - double the number needed.
The first stage, the Grand Départ, is from Leeds to Harrogate on 5 July. The second stage is from York to Sheffield the day after.
Today is the last day to volunteer to help in the Yorkshire stages.
Tourist board Welcome to Yorkshire said only 10,000 volunteers were needed, but enthusiasm had exceeded expectations.
Peter Dodd, director of Welcome to Yorkshire, said the volunteers would have a similar role to the London 2012 Olympic Games Makers.
"The tour Makers will welcome people to Yorkshire," he said. "They'll be on hand at key public locations, transportation sites and spectator venues."
'Stunning route'
Ollie Shaw from North Yorkshire was one of the first to volunteer.
He has cycled part of the first stage from York to Ripon, which takes in the Yorkshire Dales.
"It's a stunning route, it'll be distracting to cyclists to look at the scenery," Mr Shaw said.
"I've watched the Tour for the last 20 years and visited France to watch it last year. I'm also a proud Yorkshireman so I want people who come next year to think, 'Wow, what a place'."
Stage one of the Tour de France
The Leeds to Harrogate leg of the race is to start on the Headrow in Leeds and will head north out of the city north towards Harewood through Skipton, Hawes, Leyburn and Ripon - a distance of 118 miles (190 km).
Stage two of the Tour de France
The second stage travels from York through Keighley, Hebden Bridge, Huddersfield and High Bradfield before arriving at Sheffield Arena 124 miles (200 km) later.
The race will continue from Cambridge to London on Monday 7, prior to the French stages from 8 until 27 July.
Welcome to Yorkshire said 50 road signs were planned along stage one from Leeds to Harrogate, so people could follow the route "for years to come".
The last time the race was in the UK was 2007, when it started in London.