Avon and Somerset Police drink-driving charges halved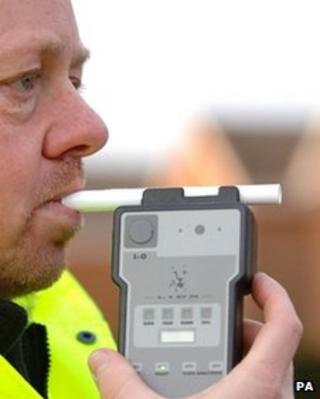 The number of people charged with festive drink or drug driving by Avon and Somerset Police has fallen by almost 50% since last year.
Seventy-one motorists have been arrested and charged since 1 December, compared with 136 during the Christmas period last year.
A total of 120 arrests have so far been made by the force.
Chief inspector Yan Georgiou said a reduction in arrests was evident but "still too many" were drink-driving.
"That is 120 potentially fatal collisions and it's too many," he added.
The force said its officers had targeted known hot-spots as well as responding to public information.
Police have been actively encouraging people to make contact if they have concerns that someone may be drink driving.
"Drivers caught driving while under the influence of alcohol or drugs risk a fine of up to £5,000, a minimum 12-month driving ban, a criminal record, could end up behind bars and could then find difficulty finding insurance in the future or could lose their job," said a police spokesman.