New Year Honours: Cleaners and campaigners recognised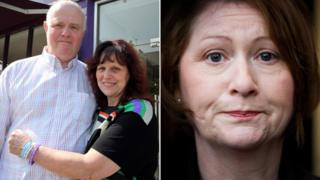 A bell ringer, two Downing Street cleaners and dozens of campaigners across England have been recognised in the New Year Honours list.
A regional newspaper editor and the former boss of Saga have also been honoured, as have the parents of murdered teenager Jimmy Mizzen.
The founder of a Stafford Hospital campaign group was appointed CBE.
And Marcus Setchell, the doctor who oversaw the birth of Prince George, has been knighted.
Across England, campaigners for good causes were recognised in the Honours list.
Barry and Margaret Mizen were made MBEs in recognition of the work they have done for young people since their son Jimmy was murdered in 2008.
And Julie Bailey, who founded the campaign group Cure the NHS after being appalled by the care she witnessed her mother and others receive at Stafford Hospital, becomes a CBE.
Helene Donnelly, who was a nurse and whistle blower at the hospital, was appointed OBE.
The trust that runs the scandal-hit hospital will be dissolved after its services were deemed "unsustainable".
The former boss of Saga, Roger De Hann, was knighted after giving £49m in seven years to education and charity organisations.
And the editor of the Northern Echo, Peter Barron, was appointed MBE for services to journalism and the community.
During his tenure, the paper successfully campaigned to change legislation and build hospices.
Elizabeth Baines, from Diss, in Norfolk, has been appointed MBE for services to bell ringing in Norfolk and north Suffolk.
She has taught hundreds of people to ring church bells since the 1980s and said to be given the honour was "an amazing feeling".
Two cleaners at No. 10 Downing Street, Henrietta Shorter and Madeleine Hennell, were awarded the British Empire Medal (BEM).
The founders of internet site Netmums, Sally Russell, Siobhan Freegard and Cathy Court, were all made OBEs.
Mrs Russell, from Watford, said: "It's extremely exciting and of course it's also a huge personal honour. I feel very humbled, it wasn't expected at all.
"It's lovely to know that families and parents are thought of and we are making a difference to people."
And Apprentice star Karren Brady, who is the vice-chairwoman of West Ham Football Club and former Birmingham City managing director, has been appointed CBE for services to entrepreneurship and women in business.