Atlantic crossing rowers fail to recover abandoned craft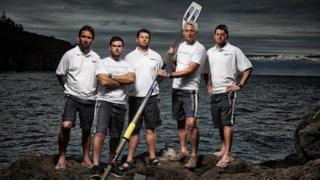 A team of British rowers who had to be airlifted to safety from a trans-Atlantic challenge have been unable to find their missing craft.
The Team Atlantic Splash crew from Kent, Sussex and Essex were five days into the race when their boat, Atlantic Mission, was damaged in a storm.
Skipper Neal Marsh, 44, of Worthing said they carried out an extensive search but could not find "Missy".
They had been attempting to row from the Canary Islands to the Caribbean.
The crew had to be rescued from their craft when it started taking on water after a pump seal failed during a heavy storm about 130 miles south west of Tenerife earlier in December.
It was fitted with a parachute anchor and GPS tracker but when Mr Marsh and Tom Hyland, 24, also of Worthing, sailed out to its tracked location they could not find it.
Mr Marsh wrote on his blog: "Tom was convinced he caught a glimpse of her orange and white hull briefly.
"We circled the area but nothing. We remained close to Missy's track until sunrise, around 7.30 am, and followed other new fixes in rough conditions getting more and more frustrated.
"We think it was just the conditions that led to the failure of a sighting and it was not getting better. We calculated we would probably need to get within at least half a mile to see her.
"It never happened and we had to accept that she was lost to the sea."
Recovered competitor's boat
The pair did however manage to recover a boat that was abandoned by the AstroSweden team and tow it back to the Canary Islands.
Sixteen teams, including Team Atlantic Splash, started the Talisker Whisky Atlantic Challenge on 4 December.
Mr Marsh, Mr Hyland, Bastien Leclair, 30, all of Worthing, Marc Alderman, 28, from Folkestone, Kent, and Terry Munson, 27, from Essex, were taking part in the race to to raise £200,000 for Great Ormond Street Hospital, the Tall Ships Youth Trust, the British Heart Foundation and the Macular Society.
The challenge, which is expected to take about 50 days, also features the Row2Recovery team which is crewed by four soldiers, including two who lost limbs in Afghanistan.
It is billed as the world's toughest rowing race.
Friends Nick Rees, from Farnham, Surrey, and Ed Curtis, from Anglesey, north Wales, had to be rescued from their boat on 17 December after it capsized.