Power still out for 1,500 Surrey and Sussex homes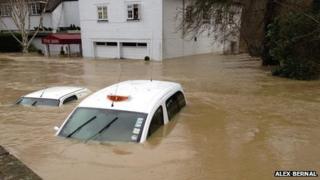 More than 1,500 homes are still without power in Surrey and Sussex following stormy weather on Christmas Eve.
UK Power Networks said engineers were clearing and repairing the lines to restore power to 890 properties in Sussex and 680 in Surrey.
More than 30,000 properties were left without supplies on Christmas Eve when high winds struck the region.
Gales and rainfall overnight caused disruption to parts of Surrey hit by flood waters but not as much as feared.
'Progress being made'
In a statement, UK Power Networks said it "provided hundreds of Christmas dinners for people without power, at restaurants and mobile facilities across the South East.
"Engineers and tree cutters are clearing and repairing the lines - hard work and time consuming, but good progress is being made.
"They are working from job to job, targeting larger jobs first where many customers are affected."
The Environment Agency said it was concerned about the River Mole, which burst its banks in several areas on Christmas Eve, and has issued more than a dozen flood warnings in the South East.
Earlier, Tim Connell, from the agency, said: "Fortunately the rainfall totals we've seen so far overnight have been at the lower end of potentially what might have arrived so whilst we will see some response in the rivers we're hoping that will be fairly short term and that the gradual draining of the river systems will continue.
"We'd hope to see flood warnings and alerts lifted through the day."
He added: "Be very wary of standing water, or indeed flowing water, if you're travelling. Just take extra care and keep track of the flood warnings and flood alerts in place."
The flooding on the Mole also caused a power cut at Gatwick Airport north terminal that saw thousands of passengers stranded.
Gatwick contingency plans
A spokeswoman for the West Sussex airport said: "Flights are operating as normal from London Gatwick's North and South terminals today [Friday] following further rainfall and high winds overnight.
"We have additional teams of engineers, electrical staff and volunteers at the airport to minimise the risk of disruption from potential further flooding.
"Contingency plans have also already been put in place to minimise the risk of potential flooding following disruption earlier this week."
South West Trains said it had cleared more than 140 fallen trees in the last three days.
Also, as a result of severe landslip, a bus replacement service will run between Haslemere and Petersfield in Surrey.
There will be no Gatwick Express service, between London and Gatwick, until 2 January because of planned engineering work.
Southern said there would also be no direct services between London Victoria and Gatwick Airport because of a landslip in the Ockley area.