New Zealand rescue teams find body in hiker search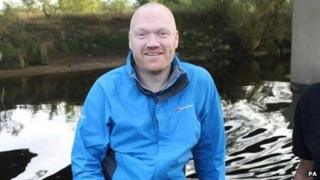 Rescue crews in New Zealand searching for a British hiker who went missing two weeks ago have found a body.
Andrew Wyatt, 41, from Cornwall, was last seen on 15 December when he set out on what was intended to be a one-day hike in a mountainous area of the South Island.
The body, which has yet to be formally identified, was discovered at the foot of a 100m (300ft) cliff.
Bad weather had previously hampered the search effort, police said.
Mr Wyatt had arrived in New Zealand in November and was walking the 3,000km (1,900 mile) Te Araroa Trail, which runs the entire length of the country.
Rescue teams discovered the body below the Lake Constance Bluff, on Mr Wyatt's intended route between Blue Lake Hut and Waiau Pass, police said.
Mary May, Cornwall councillor for Penryn West said: "The town is there for the family at this difficult time."