Bradford-on-Avon flooded bridge is reopened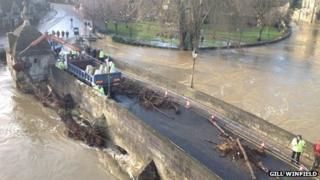 A bridge in a Wiltshire town has been reopened after "several lorry loads of debris" were cleared away following the recent storms.
About 12 properties, including shops in the Bath Road area of Bradford-on-Avon, were affected by the flooding.
About 150 homes in the Salisbury area remain without power after rain and wind battered the region on Tuesday.
Scottish and Southern Energy said its engineers were "making every effort to restore the electricity supply".