Expenses shame of ex-MP MacShane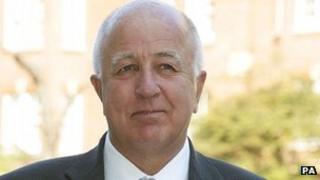 Denis MacShane didn't just think he could get away with writing bogus invoices to claim thousands in extra parliamentary expenses. The former Labour minister and Rotherham MP thought he had a right to raise funds in this way.
In his mind he justified it as compensation for what he had spent travelling the world as an unpaid adviser on foreign affairs to the then Labour government.
In fact, he was simply continuing to enjoy the all-expenses-paid, jet-setting lifestyle lost when Tony Blair sacked him as Minister for Europe in 2005.
It is not as if he had not already brushed with authorities on "over-claiming" expenses. Following complaints from a couple of doggedly determined political opponents back in Rotherham he had been forced to pay back well over £4,000.
'Let him off lightly'
Peter Thirwell, a former Labour councillor, was so incensed that he stood as an Independent in the 2010 General Election in Rotherham with an overtly "anti-corruption" manifesto.
"I couldn't get any more pointed than that," Peter told me as the former local government officer flicked through a thick dossier he had compiled analysing MacShane's published expenses accounts.
"I thought the parliamentary authorities let him off lightly because according to my research he had taken £125,000 in expenses to fund a constituency office that was actually an unconverted garage at his house."
Rotherham's far-right BNP candidate Marlene Guest had also complained to the authorities and helped spark off a police inquiry in 2010. That investigation seemed to have fallen by the wayside for lack of evidence.
"It was the laptops that got me," the retired local shopkeeper told me. "How could anybody use so many? And what legitimate businessman would buy one at the airport the week before Christmas? I wonder where that went?"
In fact, what none of his critics back in Rotherham knew was that MacShane had already admitted a far more serious crime to the parliamentary authorities.
Damning admission
By that stage 19 suspicious invoices had come to light in the expenses office which he had submitted for "translation services".
In written evidence to an investigation by the parliamentary commissioner for standards he explained that they were bogus and there was no other way to finance the work of MPs abroad.
MacShane thought the damning admission could never be used against him in open court because it was given under the ancient protection of parliamentary privilege.
That angered Kevin Baron, the MP for the neighbouring South Yorkshire constituency of Rother Valley, who also happens to be chairman of the House of Commons privileges committee.
He told MPs that criminal activities could not hide behind parliamentary privilege.
It forced Denis MacShane to resign in November 2012 and a new Scotland Yard investigation finally led to charges of false accounting. Even then, MacShane spent months protesting his innocence until finally bowing to the inevitable and pleading guilty before an Old Bailey judge.