Parking 'brings £594m surplus for English councils'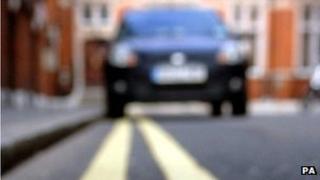 Councils are making record surpluses from parking charges and fines, according to the RAC Foundation.
In 2012-13 local authorities in England made a "profit" of £594m from parking activities, the organisation said.
Seven of the 10 greatest surpluses were in London - including all the top four. The largest was £39.7m in Westminster.
The foundation said the record revenue came as spending on roads fell but the Local Government Association said councils were on the side of motorists.
The figures were calculated by adding up income from parking charges and penalty notices and deducting running costs.
The combined "profit" of £594m was up 5% on the equivalent figure for 2011-12, which was £565m.
However, 52 of the 353 parking authorities across England reported a deficit.
'Not allowed'
The RAC Foundation, a motoring research charity, said budgets submitted to central government for the current financial year showed the surplus for 2013-14 was likely to be even higher.
The only areas outside London to make the top 10 were Brighton and Hove, Nottingham and Manchester.
In September, the government announced plans to tackle authorities making a profit from parking. Communities Secretary Eric Pickles said cameras used to catch people parking illegally could be banned and unnecessary yellow lines could be reviewed.
At the time he told the BBC: "What this is about is raking in pretty large sums of money to fill the councils' coffers.
"The law's pretty clear. It says you're not allowed to do that."
Professor Stephen Glaister, director of the foundation, said: "It is a case of deja vu. Once again English councils have made record amounts from parking.
"Yet overall spending on local roads has fallen by 9% over the past three years with road safety expenditure down by as much as 20%.
"The government's recent decision to consult on changes to parking rules and regulations is timely and we have always argued that at the very least all councils should publish an annual parking report to explain how much money is collected from drivers and, just as importantly, where that cash is going."
'Parking bullies'
But Peter Box, chairman of the Local Government Association, said many councils already did publish such reports "to be open and transparent with residents and combat the deep-rooted misconception that they are being used to raise money".
He also insisted councils did not make a profit from parking because surplus income was spent on projects such as road improvements and subsidised bus travel.
"This report further peddles the myth that councils are using parking charges to raise money," Mr Box said.
"The reality is that the average motorist is paying 30 times more to Whitehall in charges and taxation each year than they do to their town hall through parking."
However, the government again suggested councils were indeed using fines to generate income.
A spokeswoman for the Department for Communities and Local Government said: "Parking fines have become an unjust form of arbitrary taxation, corrupting Britain's justice system and fleecing innocent drivers.
"This government is taking action to rein in the town hall parking bullies."