Woman's horror of falling overboard into North Sea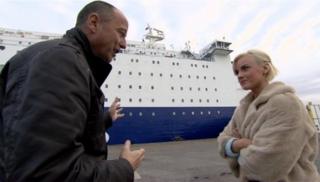 Jeni Anderson has been through an experience few of us can truly understand.
She is a reluctant member of a club with hardly any members. Those that have fallen overboard and survived.
The rest of us can only empathise on a rather feeble level.
We've nearly all experienced the fear of straying out of our depth at the seaside.
A moment of panic, a rush of adrenaline, a few panicky strokes or kicks of the legs in the water and we're back to touching the sand with the tips of our toes.
The loneliness of the North Sea
So imagine the fear that Jeni felt when she fell over the side of the Newcastle to Amsterdam ferry and into the icy pitch black of the North Sea.
Here she describes just what it's like to be treading water as the ship sails away.
By rights she could have died from the 60 feet drop alone.
The human body also cannot resist cold shock. That's where we can involuntarily breathe in when we are suddenly immersed in icy cold water.
She may have been briefly unconscious as she hit the sea and so didn't inhale water.
Ask any captain about the chances of finding someone again in the dark and you realise how slim Jeni's chances were that she'd be able to tell her story.
Inside Out can be seen on Monday, 6 January, 2014 at 19:30 GMT on BBC One in the North East & Cumbria and nationwide for the following seven days on the BBC iPlayer.