Danny Nightingale gun conviction: SAS man suffers appeal setback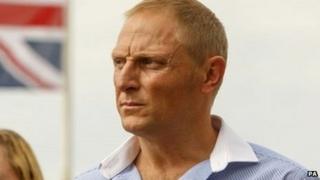 A former SAS sniper found guilty of illegally possessing a gun and ammunition is refused permission to appeal against his conviction.
Danny Nightingale, from Crewe, Cheshire, was given two years military detention, suspended for 12 months, in July.
Nightingale's application was rejected by a judge, the Judicial Office has confirmed.
The 38-year-old could renew his application at the Court of Appeal.
The special forces soldier was found guilty of having a 9mm Glock pistol and more than 300 rounds of ammunition in his accommodation, near the SAS's Hereford headquarters.
The sentence imposed in July was the second he had faced.
He was originally jailed for 18 months in November last year, but the guilty plea was quashed and a retrial was ordered.
This was on the basis he had been placed under "improper pressure" to plead guilty.