New Year, new Midlands marginal seats as elections near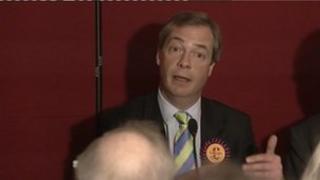 Welcome to Dudley
It's a town famous for its castle and for its zoo. But who will be the kings and queens of the political jungle in this town of two marginal seats?
In Dudley South the Conservatives have a majority of under 4,000, while in Dudley North Labour will defend an even more precarious 649.
And here lies the real fascination of the unfamiliar territory into which we are being led by this era of coalition politics.
Traditionally, one or other of our two biggest parties has had a majority government at Westminster, so all eyes have been on the target seats required by the main opposition party to turn everything around.
But now, with both parties short of a majority, they have two separate sets of marginal seats in their sights at one and the same time.
Uncanny coincidences
The story of our Midlands "swing seats" has long been a predominantly two-party affair.
Of the top 10 on Labour's list, all are currently Conservative-held apart from Liberal Democrat Birmingham Yardley.
Conversely, all top 10 Conservative targets are currently Labour seats apart from Solihull with its wafer-thin Liberal Democrat majority of 175.
And by one of those uncanny coincidences that happen only in real life, many of these places just happen to feature prominently on the list of councils holding elections next May.
As if this didn't offer quite enough scope for us to speculate to our hearts' content about general election pointers, elections will be held on the same day for seven seats in the European Parliament, representing one giant West Midlands constituency of nearly six million people from the Cotswold village of Broadway in Worcestershire to Leek in the Staffordshire Moorlands; and from the Welsh border to Rugby and Nuneaton in easternmost Warwickshire.
If recent opinion polls were anything to go by, UKIP would be poised to "poop" the parliamentary parties' parliamentary party!
They certainly hope to knock the Conservatives' share of the vote into third place. But would this really be any kind of a guide to the outcome of the general election 12 months later?
Consider what happened last time.
Mood music
UKIP were riding high in the last European elections in 2009 (though admittedly not as high as their poll ratings suggest they are now). They secured two of the six seats then available.
And yet in the general election the following year their share of the vote in the West Midlands plummeted to 4%.
And which of the bigger parties stands to lose most from the so-called "UKIP factor"?
Conventional wisdom has it that Nigel Farage's party poses the biggest threat to the Conservatives because it damages not only their chances of holding their own marginal seats like Dudley South, but also their chances of capturing Labour's, like Dudley North.
Professor Mick Temple, of Staffordshire University, believes that portraying this exclusively as a problem for the Conservatives is a misreading of the data.
He reminds us that UKIP drained significant support from Labour during the latter stages of the Blair-Brown period, especially on the issue of immigration which appears to be playing even more strongly on Midlands doorsteps now than it was then.
The real significance of 2014 is that it is the year before 2015!
One point on which all the parties can agree is that it will strike-up the mood music for the main event.
So save the date: 22 May 2014 will be polling day in those 18 Midlands councils as well as the European elections.
"Super Tuesday" may be a highlight of US presidential elections. But as President Reagan himself famously declared: "You ain't seen nothing yet!" - just wait for our own "Super Thursday".