HMS Protector: Early Christmas in Antarctica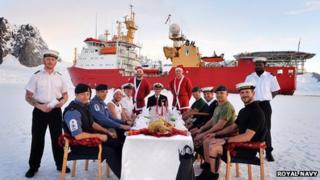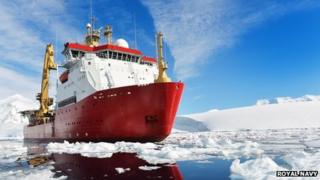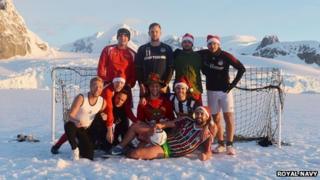 The crew of the Royal Navy's ice patrol vessel have celebrated Christmas early on the Antarctic peninsula.
Portsmouth-based HMS Protector is due to be on patrol at sea on Christmas Day, so sailors had a festive celebration on the ice cap.
The ship's company enjoyed a game of football before settling down to a roast turkey dinner.
Capt Rhett Hatcher, said it was a "truly unique privilege" to spend Christmas in Antarctica.
HMS Protector sailed from Portsmouth in October, travelling to the Antarctic peninsula via Cape Verde, Rio de Janeiro and South Georgia.
The 5,000-tonne ship's role is to patrol the British Antarctic Territory. It is also conducting research on behalf of the UK Hydrographic Office and providing logistical support to the British Antarctic Survey.
Capt Hatcher added: "With 21 hours of daylight we need to remind ourselves to take a break from operations. When we do so we know that, despite being a very long way from our families and friends at home, we are proud to be on patrol for the Royal Navy and in the best possible company."
On returning from Antarctica, HMS Protector will be sailing into Plymouth where it will join the navy's other hydrographic and meteorological survey ships.
The Ministry of Defence announced in October that the icebreaker's home port would move from Portsmouth to Devonport, where HMS Echo, HMS Enterprise, HMS Gleaner and HMS Scott are already based.