Airport expansion: Boris Johnson accused of 'scaremongering'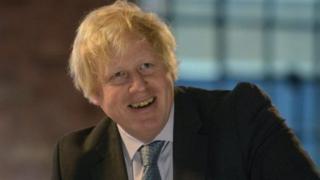 Heathrow Airport has accused the Mayor London of scaremongering for suggesting the M25 might have to be shut for up to five years if a new runway was built.
New runways at Heathrow and Gatwick are options shortlisted by a commission looking at increasing airport capacity.
Boris Johnson said the motorway would have to be "concreted over" and probably closed as part of its plans.
Heathrow insists the M25 would stay open while a tunnelled section, required for one option, was built.
The Airports Commission, led by businessman Sir Howard Davies, announced on Tuesday that it would also consider a new airport in the Isle of Grain in north Kent.
'Future misery'
During an interview on the Today programme following the publication of the commission's interim report, Mr Johnson said building a third runway at Heathrow was "completely crackers" and "wrong for the country".
He added: "What is being proposed at Heathrow is not some oven-ready, [easy] peasy scheme.
"Both the Heathrow options involve concreting over the M25, probably closing it for at least five years and doing major re-alignments of the M4 of the A113 and we're talking about tens of billions [of pounds].
"Why on earth entrench a huge planning error and expand Heathrow and consign future generations to misery when we could go for the right option?"
Mr Johnson favours the creation of a hub airport in the Thames Estuary or on the Isle of Grain.
The Airports Commission's three options for expanding the UK's aviation capacity are:
A new runway at Gatwick Airport more than 3,000m (9,842ft) in length
A new 3,500m (15,000ft) runway at Heathrow Airport constructed to the north-west of the existing airport
An extension of Heathrow's existing northern runway to the west to at least 6,000m (20,000ft), enabling it to be used for both take-offs and landings
'Improved the proposal'
A spokeswoman for Heathrow Airport said: "Contrary to recent scaremongering, the option shortlisted by the Airports Commission for a new runway to the north-west of Heathrow would not require the closure of the M25, let alone for five years.
"The new, tunnelled section would be completed and opened before the existing route was closed.
"Since our original submission we have also improved the proposal so it now makes use of the existing M25/M4 junction, reducing construction disruption still further.
"We will now work with the Highways Agency to develop our proposal and see if there are further improvements which can be made."