Lynne Spalding death: Family anger at inquiry delays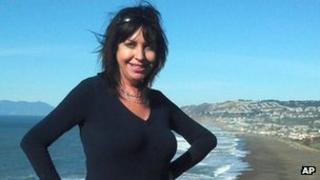 The family of a British woman found dead in a US hospital stairwell 17 days after going missing say vital questions about her death remain unanswered.
Lynne Spalding, 57, from Haswell in County Durham, was being treated at San Francisco General Hospital when she disappeared on 21 September.
But three months on, her family said it was "disturbing" the exact date and time of death had yet to be determined.
A US coroner's report suggested alcohol abuse had been a factor in her death.
Ms Spalding, who moved to San Francisco several years ago, was being treated for a bladder infection at the hospital.
Following her disappearance, the hospital was searched and police opened a missing person investigation. But Sheriff Department deputies failed to look in all the stairwells.
'Blame the victim'
They also had the wrong racial description and waited days to share surveillance footage.
The mother-of-two was eventually found on 8 October in a fifth floor stairwell, where she had lain dead for several days.
A coroner's report suggested Ms Spalding may have died as a result of a chemical imbalance from heavy drinking.
But family spokesman David Perry dismissed reports Ms Spalding was an alcoholic, saying she had been "abandoned" by those who should have been caring for her.
He said: "We find it disturbing that the medical examiner's report seems to blame the victim. I thought we had got past that time in our society.
"It appears that there has been an attempt to smear the good name of this woman instead of trying to find the truth.
"I had known Lynne for six years. Was she teetotal? No. But I was not aware of any drink problem."
He said there had been a "lack of urgency" from hospital and police officials who had released "inadequate and incomplete" information.
"The family and friends of Lynne are not going to give up until we get the whole truth about what exactly happened and until the systemic failures that led to Lynne being lost and dying on that stairwell are fixed.
"We have lost confidence in the investigation process."
Mr Perry said it was difficult for Ms Spalding's 23-year-old daughter Simone and 19-year-old son Liam to move on because of the investigative delays.
San Francisco's Sheriff's Department said five deputies had been reassigned since Ms Spalding's death and an investigation alongside hospital officials was continuing.
Last month the Sheriff, Ross Mirkarimi, admitted the search for her had been flawed and said he wanted to make sure it never happened to anyone else.