Apollo Theatre: Ceiling collapses during show in London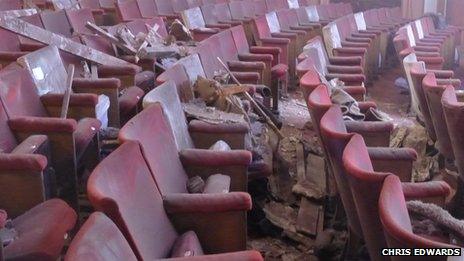 Seventy-six people have been injured, seven seriously, after part of a ceiling in London's Apollo Theatre collapsed during a show, police say.
The venue in Shaftesbury Avenue was packed for a performance of The Curious Incident Of The Dog in the Night-Time.
Eyewitnesses heard "a crackling" noise before the collapse at about 20:15 GMT. Theatre-goers left covered in debris.
The Apollo's owner described it as a "shocking and upsetting" incident and said an investigation was under way.
A spokesman for the company, Nimax Theatres, said "thoughts are with the audience and staff".
A total of 58 people were taken to hospital but there were no life-threatening injuries.
Ch Supt Paul Rickett, who is in charge of policing in London's City of Westminster, said: "All of the emergency services responded to this incident using tried and tested systems that we have for working together. That response has been swift and effective.
"Officers remain at the scene tonight and will do for the coming hours. We thank the public for their support and patience.
"We'd ask those who are out and about in the West End area tonight to stay away from the area so we can continue our work."
The London Ambulance Service said 25 ambulance crews and an air ambulance rapid response team attended the scene.
Incident commander Maria Smith, who was one of the first on scene, said: "When I arrived it was dark and extremely dusty and people were lying on the floor of the theatre.
"We very quickly set up a casualty clearing area in the foyer of the theatre and the walking wounded were assessed and treated there for injuries such as cuts and grazes, breathing problems and head injuries.
London Fire Brigade said its "search is now complete" and the theatre has been sealed off.
Eight fire engines and more than 50 firefighters attended the incident in London's busy West End theatre district, along with hundreds of police officers.
The Apollo's ornate plasterwork ceiling collapsed and brought down part of the lighting rig, it said.
In a media briefing, the fire brigade said its officers inspected the theatre's roof via an aerial ladder platform that had been raised above the building.
It said it did not believe scaffolding on an adjacent building had anything to do with the incident.
Nick Harding from London Fire Brigade said: "A section of the theatre's ceiling collapsed onto the audience who were watching the show. The ceiling took parts of the balconies down with it.
"Firefighters worked really hard in very difficult conditions... they rescued people from the theatre, made the area safe and then helped ambulance crews with the injured.
"Specialist urban search and rescue crews were also called to the scene to make sure no-one was trapped."
He added: "In my time as a fire officer I've never seen an incident like this."
Firefighters said the theatre had been almost full and 720 people were watching the performance.
The Met Police said more than 40 walking wounded were treated at the nearby Gielgud Theatre, while three London buses were used to transport others to hospitals.
Guy's and St Thomas' NHS Trust said 34 adults and five children were being treated at the accident and emergency department at St Thomas' Hospital.
The majority had cuts and bruises, and a small number had fractures. The three most serious cases had injuries to the neck and back, or head.
The trust said at this stage there were no life-threatening injuries.
In a statement it said: "We have had a fantastic response from staff - both already on-site and those who came in from home - to help."
Prime Minister David Cameron tweeted: "I've been updated regularly on the Apollo incident. I'm grateful for the fast work of the emergency services in helping the injured."
A spokesman for London Mayor Boris Johnson said: "He has spoken to the Met Police Commissioner and is liaising with the relevant agencies. His thoughts and prayers are with those involved in what is clearly a very serious incident."
Mark Haddon, author of the book on which the play is based, tweeted: "It's been horrifying sitting here watching what has been happening at the Apollo this evening. I'm hugely relieved that no-one has died.
"I hope that those who were seriously injured are OK. I'm sorry, too, that so many people went through such a terrifying experience."
'Strange crackling noise'
Witnesses earlier said they had seen people leaving the building, covered in dust and plaster - with some bleeding and crying.
Amy Lecoz, who was at the theatre with her two children, aged 16 and 19, said: "The entire dome roof fell down on the audience just in front of us. We were protected by the balcony above and we ran. People started screaming.
"We thought it was water... We thought it was a part of the show. I grabbed my kids and ran."
Another witness said she heard a "strange crackling noise" before "the roof just crumpled".
The theatre "suddenly went dark" with "dust clouds everywhere", she said.
"You could see everyone ran off the stage... it went dark".
Theatre-goer Khalil Anjarwalla said he, his heavily-pregnant wife and her parents managed to escape from the theatre safely after "kilos of concrete plummeted from the ceiling".
"We initially thought it was part of the show. Thankfully we are all OK. My wife is seven months pregnant but she is OK."
Speaking to the BBC News Channel, Martin Bostock said: "All the actors reacted, we saw all the actors looking up above us and pointing, looking horrified and then things started falling and smoke, and I thought it was part of the show until something hit me on the head very hard.
"I thought, that's not quite right, and then everything came down around us and to be quite honest I thought we were all going to be in really, really, really serious trouble and it felt horrific."
Simon Usborne, from the Independent newspaper, was also in the audience.
"Everybody rose instantly and grabbed anything they could and dashed for the door," he said.
"I was very close to the exit, fortunately, with my girlfriend and we got out onto the pavement in, I would say, three seconds. And then people out on the pavement were in a state of shock.
"There were children, it's a family-friendly show, of course, who were crying, there were adults and then people started walking out, covered in dust, head-to-toe, many with blood on their heads and faces."
Witnesses said police and emergency crews were at the scene within minutes.
A 29-year-old audience member, who only gave his name as Ben, said: "It was about half-way through the first half of the show and there was a lot of creaking.
"We thought it was part of the scene, it was a seaside scene, but then there was a lot of crashing noise and part of the roof caved in.
"There was dust everywhere, everybody's covered in dust. We got out fairly quickly, I think everyone was quite panicked."
Jess Bowie was also in the theatre and said in a tweet that the experience was "absolutely petrifying... people outside are covered in dust and some in blood. Utterly horrible".
The Curious Incident Of The Dog In The Night-Time has been running in London since August 2012. The show started at The National Theatre, before transferring to the Apollo in March this year.
The Grade II-listed Apollo was built in 1901 and has 775 seats over four levels. Since 2005 it has been owned and operated by Nimax Theatres, which also runs the Garrick, Duchess and Vaudeville theatres.