Norfolk and Suffolk health trust bosses told 'improve or resign'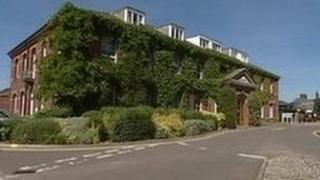 Campaigners have called on the board of a health trust to take urgent action to avert a "serious crisis" or resign.
The Campaign to Save Mental Health Services in Norfolk and Suffolk sent an open letter to directors of Norfolk and Suffolk NHS Foundation Trust.
It called on them to act quickly in six key areas to "rectify a situation which is in danger of spiralling downwards".
Trust chairman Gary Page said it faced a difficult financial situation but welcomed "constructive criticism".
The trust, formed earlier this year from a merger of two NHS trusts, needs to save £40m out of its £220m annual budget over four years and is cutting staff, beds and services.
Members of the campaign group, founded last month, attended a public meeting of the trust's board in Bury St Edmunds, Suffolk.
Their letter called on the trust to call a halt to bed closures and reopen wards wherever possible.
It also called on the trust to withdraw its proposal to reduce the number of experienced staff in its crisis resolution and home treatment teams.
'Gulf in perception'
Other demands include a review of the prevention of suicide strategy and the establishment of a caseload management team to ensure staff do not carry individual responsibility for excessive workloads.
"The trust board members need to ask themselves why there is such a gulf between their perception of the state of affairs and that of front-line staff and service users," said a campaign spokesman.
"Denying that a problem exists will not bring about a solution."
Mr Page said: "We welcome constructive discussion with the campaign and with any service users and stakeholders and of course we will listen and consider the issues that they have raised.
"What we're facing is an extremely difficult financial situation. We know there's pressure everywhere in the NHS.
"This is not a strategy that is set in stone that we're blindly running to implement."