First Great Western explores first class reduction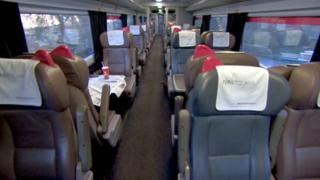 First class users of some First Great Western trains may find they have fewer seats to choose from in the future.
The train operator has confirmed it is in talks with the Department for Transport about reducing first class carriages on some of its services.
First Great Western (FGW) spokesman Dan Panes said "capacity issues" had been recognised as no first class carriages were regularly more than 70% full.
A standard carriage contains 80 seats - 32 more than a first class carriage.
'Removing provision'
The operator said it was discussing the idea with the government "to meet continued passenger journey growth", but stressed no decisions had been made.
FGW's high speed trains are made up of either six standard and two first class carriages, or five standard and 2.5 first class carriages.
On both formations, if there was a reduction to 1.5 first class carriages the number of standard seats would rise from 465 to 510, and 378 to 458, respectively.
Mr Panes said: "If we look at removing some of that first class provision, on some trains that will increase capacity by about 20% and that is really significant at a time when passenger numbers continue to rise.
"By taking away one seat in first class, we can provide two in standard class, and that's got to be a good thing."
The idea has been welcomed by rail travel campaigners who say it is a "sound business move".
Tony Ambrose, a member of the "More Train Less Strain" group, said: "More that half the time first class is empty.
"It is a very good move for commuters because it means they will have more capacity on the train."