Care row leaves cerebral palsy boy stuck in hospital for months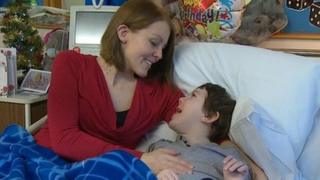 A boy with cerebral palsy admitted to hospital in the summer is facing having to stay there over Christmas because health bosses cannot decide who should pay for home care, his mother says.
Jo Hudgell, from Cornwall, said her son, Alex, 10, was admitted to hospital in Plymouth, Devon, with an infection.
She said doctors declared him able to go home in September but the row had prevented this.
NHS Kernow said it was working to get him home as soon as possible.
'Not acceptable'
Alex was taken to Plymouth's Derriford Hospital for treatment after he contracted a chest infection.
Ms Hudgell said he should ideally be back home in Gunnislake and he was entitled to a home care support nurse to help with turning him in bed and to administer other treatment.
Although she can carry out much of his medical care, Ms Hudgell is registered disabled because of trouble with her hip.
She said health and social services could not agree who would pay.
She said: "He's taking up a bed, and surely the amount to keep him here can't be cheaper than getting him home? It can't be.
"It's not acceptable for any child to be in hospital over Christmas when they're well."
Clinical commissioning group NHS Kernow said it had apologised for how long Alex had been in hospital.
It said it was working to ensure Alex was returned home as soon as possible.
A meeting to discuss the situation is to be held on 6 January.