Neville Neville not guilty of sex attack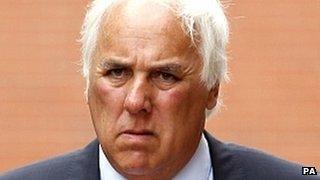 Neville Neville, the father of former England and Manchester United footballers Gary and Phil, has been found not guilty of sexual assault.
Mr Neville, 64, admitted he engaged in sexual activity with the complainant in her car near his house but said it was consensual.
The woman told the court that he had drunkenly "forced" himself upon her.
Mr Neville bowed his head as the verdict was delivered at Bolton Crown Court after 75 minutes of deliberation.
He then looked upwards and mouthed "thank you" in the direction of the jury.
'Kissed passionately'
The court heard the woman, who knew Mr Neville, had offered him a lift home in March after a night out in Bury because of the snowy conditions.
Mr Neville admitted they "kissed passionately" in her car just yards from his home, but denied being drunk.
But the woman, who cannot be named for legal reasons, claimed he pounced on her, "pinning her to the seat" before sexually assaulting her.
The court heard she said she told him to "stop it" twice at the end of the alleged assault, but did not say "no".
Gary's tears
Mr Neville told the court how he broke down in tears when he returned home after being interviewed by police over the alleged assault.
His son Phil "erupted" when his father confessed to "cheating" on his mother, the trial heard.
Asked for a comment outside the courtroom, Neville Neville said: "I can't say anything right now. Maybe later."
His elder son Gary, who cried as the verdict was delivered, said: "Dad, come on. He won't be saying anything."
Neville Neville is the former commercial director and commercial manager of Bury Football Club.
He was involved in the fans' group Save Our Shakers, formed when the League Two side faced bankruptcy in 2002.
His sons Gary and Phil both started their lengthy football careers with Manchester United in the early 1990s. Gary won 85 England caps, while Phil won 59.
Gary Neville is now on the England coaching staff and works as a Sky pundit while his younger brother retired from playing for Everton this summer and now coaches Manchester United. Their sister Tracey played netball for England.