World War One: Coventry mayor vilified over German roots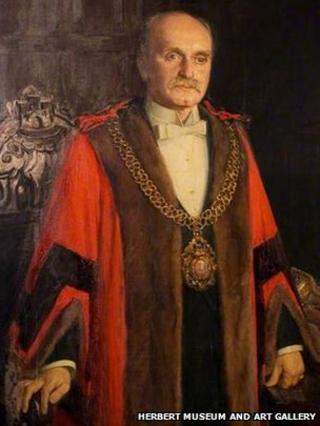 The outbreak of World War One saw a wave of anti-German feeling sweep the country. In Coventry, for example, it forced the resignation of the German-born lord mayor even though he was a naturalised British citizen and chairman and founder of the city's famous Triumph Motorcycles.
In August 1914, Siegfried Bettmann had every right to consider himself a pillar of the Coventry community.
He was married to a local woman, lord mayor of the city, a Justice of the Peace, a Freemason, a member of the Liberal Party and the chairman of a thriving local business.
But his name and German birthplace would change his social standing almost overnight, once war was declared. This was in spite of the fact his British naturalisation status meaning he did not face internment.
"The war broke out [and] broke many lives, and amongst these was my life as far as public action was concerned," he wrote in an unpublished autobiography.
"Persons bearing a German name were driven to despair. They were hunted out of their positions [and] ruined in their businesses."
He resigned his mayoral post and, with cruel irony, was "sent to Coventry" by other members of the management team at Triumph.
"The evil-doers and thinkers had achieved their first victory," he reflected bitterly.
Royal name change
Mr Bettmann was not alone in feeling the scale of the anti-German feeling - even the Royal Family were affected.
Within a few days of war being declared the War Office wrote to King George V asking him to remove the Kaiser, his first cousin, from his honorary command of the Dragoon Guards and his position as a British admiral.
The British naval career of Prince Louis of Battenburg, a German prince who had married a granddaughter of Queen Victoria, also came to an abrupt end with the outbreak of war.
He had become a naturalised British citizen aged 14 and had served in the British Navy since 1868.
In 1914, he was First Sea Lord, the head of the navy - a post some newspapers and politicians felt should not be held by a man who was born in Austria and had relatives in Germany.
The pressure told and by October he had resigned.
By 1917, the Royal Family felt it was necessary to make a public declaration of the Britishness by changing their name from Saxe-Coburg and Gotha to Windsor.
Prince Louis also anglicised his family name, from Battenburg to Mountbatten.
Even being born in the UK was no protection against the anti-German backlash, as the Lord Chancellor, Richard Haldane, found to his cost.
Despite being born in Edinburgh, and having been a Liberal MP, he was vilified in the press for his alleged German sympathies.
The Times called for his head on the grounds that he had studied German literature and philosophy, and worse still had "close German friendships".
He offered to resign in 1914 but survived until a coalition government came to power in 1915.
After war was declared, the British government acted swiftly against German citizens.
Special legislation was passed in the first week of hostilities.
Under the new laws, the 60,000-strong German community in Britain had to ask for permission to travel more than five miles and were forbidden from living in "restricted areas", largely by the coast.
The Trading With The Enemy Act was then passed in September 1914, and hit many German-run businesses.
Yet by October, there were riots in Deptford, London, with a German-run corn dealers' firm set on fire.
The windows of a councillor's house in Saffron Walden were smashed because the crowd believed he was harbouring two Germans.
Anti-German feeling escalated in 1915, when a U-boat sank the liner The Lusitania.
Angry crowds attacked shops thought to be run by Germans in London, Manchester and Liverpool.
Professor Panikos Panayi, from De Montfort University in Leicester, describes the level of anti-German feeling as "vicious".
"People these days probably can't appreciate the level of Germanophobia there was in World War One in this country - the desire was to eliminate Germans from Great Britain," he said.
"There was an organisation called the British Empire Union and its slogan became 'Once a German always a German'."
Some of that feeling abated with the end of the war, and when workers at Triumph raised the money for a memorial to their 66 colleagues who were killed in the war, it was Mr Bettmann who unveiled it.
He remained committed to his adopted city and country, and a trust fund he established in his wife's name still helps young people in Coventry set up their own businesses.