A dozen North East and Cumbria discoveries made in 2013
Why do our fingers go wrinkly? Are fish scared of the dark? How do you deter thieves from stealing bikes?
Some of these questions were answered, or at least partially answered, in the North East and Cumbria in 2013.
BEATRIX POTTY
Japanese tourists travel thousands of miles to visit the home of Peter Rabbit in the Lake District.
We wanted to know why the Japanese are so interested in the "most famous rabbit in the world".
The answer? Because "he's cute, natural and particularly English".
Find out more: Why the Japanese love Peter Rabbit
WRINKLY FINGERS
Have you ever wondered why our fingers go wrinkly in the bath?
Researchers from Newcastle University confirmed wet objects are easier to handle with wrinkled fingers than with dry, smooth ones.
They suggest our ancestors may have evolved the creases as they moved and foraged for food in wet conditions.
Find out more: Science tests wrinkled fingers
HORSE THERAPY
Can horses stop prisoners from reoffending?
Horse therapy proved successful at significantly reducing disciplinary hearings of prisoners, research found.
Rosie Meek, professor of criminal psychology at Teesside University, carried out an interim report on 28 prisoners in Portland, Dorset, who worked with horses.
She said her findings "appeared to confirm success" and showed disciplinary hearings for the prisoners were down 74% after completing the course, and "negative entries" - notes added to a prisoner's file - reduced by 72%.
Find our more: Horses for prisoner reform courses
SPARKLY DELIGHTS
An area of Northumberland is one of the best places in the UK to see the night sky.
The night skies are "saturated" with light pollution, according to the Campaign to Protect Rural England.
A patch of the county's night sky is now the largest area of protected sky in Europe. Almost 300 light readings were used to assure it was granted dark-sky status by The International Dark Skies Association.
Find out more: Northumberland wins dark-sky status
SCARED OF THE DARK?
Fish are reluctant to swim in the dark.
So-called "sun pipes" have been installed to help fish swim from the sea into the becks near Sellafield.
The Environment Agency said the pipes would help ease the transition between light and dark for the fish.
"I do tend to tell people fish are afraid of the dark," said Tony Callaghan from the Environment Agency.
Find out more: Light leads way for breeding fish
CURE FOR BALDNESS
It is possible to renew follicles capable of sprouting human hair, scientists discovered.
Researchers say they could be a step closer to finding a cure for baldness.
Professor Colin Jahoda, from Durham University, said: "[The cells] actually speak to the local cells around them and create a new hair follicle."
Find out more: Baldness research 'creates a new hair follicle'
END OF AN ERA
Opinions were split in the North East about retaining the role of mayor.
The result of a mayoral referendum saw more than 8,000 vote in favour of Middlesbrough retaining an elected mayor.
May 2015 is the "right time" to stand down, said Ray Mallon who has held the post since May 2002.
However, nearby Hartlepool chose to abolish the role.
DIGITAL DANCE
"Good dance moves are a sign of male strength", according to a study at Northumbria University.
The results showed that women were drawn to strong arm and torso moves.
But they showed men were also conscious of strong upper body movements - making it easier to detect "love rivals".
Find out more: Dance signals 'rivals for love'
UNDERWATER FINDS
A toilet and an aeroplane engine were among the items found submerged in waters in the Lake District.
About 260 divers and 100 volunteers - from as far as Sweden and Argentina - took part in an underwater litter pick in Windermere, Cumbria.
A toilet was found among glass bottles dating back as far as the 1800s - and 73 car tyres. Members of Keighley Sub Aqua Club also found a World War 2 aeroplane engine in Wastwater.
Find out more: Toilet found in lake litter pick
GLARING EYES
Bike crime was reduced by putting pictures of staring eyes above cycle racks, researchers found.
For two years, researchers at Newcastle University studied crime rates at campus racks and found a drop of 62% at those which displayed eye posters.
Find out more: Glaring eyes 'deter bike thieves'
NORTH EAST VOICE
The north-east of England should have a super mayor to speak up for the region, according to a think tank.
The Institute for Public Policy Research produced a report suggesting that the North East needs a super mayor, similar to London's Boris Johnson, to ensure the voice of the north is heard in the south.
Find out more: Searching for a 'Boris of the North'
STORMING OFF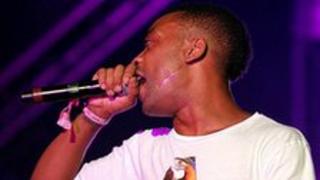 Headline act Wiley was on stage for just 15 minutes at a Cumbria festival.
Claiming to receive £1,000 per minute, the 34-year-old was booed off stage at Cockermouth Rock Festival after tweeting that he wished he could stay at home.
Festival goers attending the not-for-profit festival, which has been called off in 2014, saw Reverend and the Makers step up to fill the rest of the slot.
Read more: Twitter jibe rapper Wiley booed off