Derby sewers worst for 'fatbergs' and blockages, Severn Trent says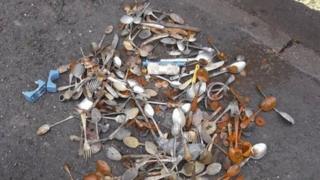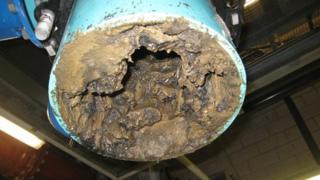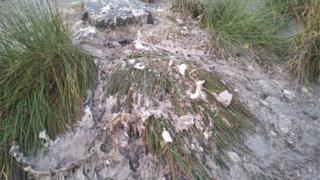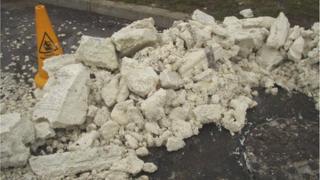 Derby has been named as having the most blocked and fat-clogged sewers out of anywhere in the East Midlands.
Fat poured down drains combines with items blocking sewers and costing millions of pounds a year to clear.
Some waste forms "fatbergs" - lumps of fat congealed with items wrongly flushed down toilets.
Dozens of knives, forks and spoons flushed down a toilet recently caused a blockage in Chaddesden, Derby.
The blockage caused sewage to back up in the area.
Helen Fee, customer operations manager for Severn Trent, said: "How on earth people have managed to flush this amount of cutlery, I don't know.
"Having sewage flooding inside your home due to sewers being blocked is one of the most horrible things that can happen to you."
'Like concrete'
From the start of April to the middle of December, Severn Trent recorded 851 blockages in Derby.
Severn Trent says liquid fat, oil and grease can stick and harden "like concrete" in sewer pipes, building up "like cholesterol accumulates in our arteries".
The water company said its figures showed the problem was getting worse across the region.
People are being asked to wipe oily cooking trays with kitchen roll before washing them, and invest in a bathroom bin instead of flushing items down the toilet.
The water company currently spends more than £10m a year clearing waste in this form from its network, and about three-quarters of blockages are caused by people misusing the sewer system.
High-pressure jets are used to chisel fat from the walls of sewers, and in serious cases heavy machinery is used to dig it out.