Airline Flybe to cut Paris route from East Midlands Airport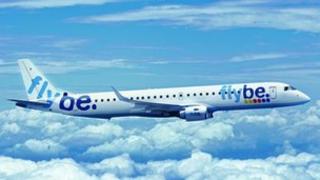 Airline Flybe is cutting its flights from East Midlands Airport (EMA) to Paris Charles de Gaulle from January.
Paul Simmons, Flybe's chief commercial officer, said the decision was taken after having "a long hard look at what passengers wanted".
Manchester Airports Group (MAG), which runs EMA, said it was disappointed the route would no longer be running.
MAG's commercial director Stephen Turner added it was a busy time and passenger numbers were up by 5%.
Worldwide connections
"The connectivity that Flybe offered was of particular benefit to our business community and offered the ability to connect to many destinations worldwide," said Mr Turner.
"We are now working hard with our airline partners to try to restore this connectivity."
In a statement, Flybe said anyone affected by the cancelled route would be offered an alternative flight through Birmingham or a refund.
More than 110,000 people are predicted to travel through East Midlands Airport between 20 December and 5 January - an increase of 5,000 when compared to the last year.
Mr Turner added Tenerife, Alicante, Malaga and Lanzarote were the top destinations this Christmas.
In November Flybe announced plans to cut 500 jobs from across its business.