Two South West Trains trains hit fallen trees during bad weather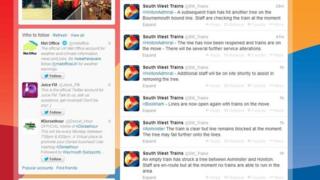 Two separate South West Trains trains have hit trees on railway lines during bad weather, the company has said.
An empty service struck a tree between Axminster and Honiton in Devon at about 19:30 GMT, blocking the line.
About an hour later, a separate train hit another tree on the London Waterloo to Weymouth-bound line at Hinton Admiral in the New Forest.
It is not know how many passengers were on the second train, although the company said everyone was safe.
Debris moved
A company spokeswoman confirmed "a train has gone into a tree" at Hinton Admiral, and that the line between Brockenhurst and Bournemouth was still closed.
"It happened at 20:40 GMT," she added.
"There are passengers on board. The train is still there and there are staff on scene making sure the track is clear and safe."
At about 22:30 GMT, South West Trains tweeted: "The train that struck the second tree at #HintonAdmiral has now moved.
"We are assessing the line now and expect other trains to move shortly."
Train staff are also still on site on the Exeter line between Axminster and Honiton, "doing all they can" to remove the debris and reopen the line.