'Eviction threat hangs over more than 200,000 homes'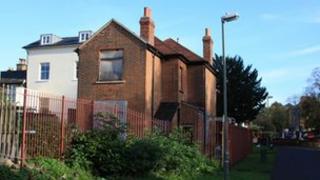 More than 200,000 households in England are at risk of repossession or eviction, according to Shelter.
The majority of the worst-hit areas are in London, with Nottingham, Luton and Salford also affected, it said.
The housing charity said the figures, based on recorded court proceedings, suggest one in every 105 homes across the country is at risk.
The Financial Services Authority said new rules will stop people obtaining home loans they cannot afford.
Under the changes, due to be introduced in April, lenders will have to put a borrower's ability to repay under greater scrutiny.
The Council for Mortgage Lenders said the number of cases brought by landlords against tenants in arrears was more than three times the number brought by lenders against borrowers, with action "a last resort".
Shelter said the latest figures highlighted the extent of the housing crisis.
The figures, obtained from the Ministry of Justice, are based on the number of mortgage and landlord possession claims that end up in court.
This is only the first stage of a legal process which can end with a person or family being evicted.
'Housing crisis'
More than 200,000 households faced a possession order this year, with homes in Newham most likely to be affected, Shelter said.
In the east London borough one in 35 homes was considered at risk.
Other parts of London - including Barking and Dagenham, Haringey, Brent, Southwark and Hackney - saw at least one in 40 homes affected.
Shelter said the figures highlight "the extent of the capital's housing crisis".
But it said the problem was not confined to the capital, with one in 60 homes at risk in Nottingham and Luton, one in 61 affected in Salford, and 1 in 63 in Newcastle upon Tyne and Wolverhampton.
There was a problem in "just about every town, every street, with people really struggling to keep a roof over their head, facing rising rents, increasing bills", said Shelter chief executive Campbell Robb.
"What these possession orders really tell you... is people are struggling, they're juggling, they're doing everything they can," he added.
"Many people have gone down to part-time hours, or they have seen their travel, or food, or rent costs, go up."
Other factors included a lack of affordable housing and relationship breakdown, Mr Robb said.
People who were worried about losing their homes should seek advice immediately, he said.
"A lot of the time if it's early enough we can help you. We can work with you to sort out your problems."