Kent, Surrey and Sussex air ambulance operates 24/7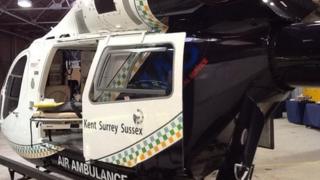 Britain's first air ambulance service to operate throughout the night has been launched in the South East.
The Kent, Surrey and Sussex Air Ambulance has extended its service to fly around the clock after previously operating between 07:00 and 19:00.
A night-time flight will operate 365 days of the year with two pilots, a specialist doctor and a paramedic.
Chief executive Adrian Bell said he expected that up to 500 extra patients a year would benefit.
During the day, two helicopters fly an average of four to six missions from bases in Marden in Kent and Redhill in Surrey, treating about 1,000 patients a year.
'Safe and reliable'
The single helicopter flying at night will operate from Redhill, responding to about three missions across the region.
Mr Bell said its Helicopter Emergency Medical Service (HEMS) had actually started flying at night almost three months ago.
"I didn't want to go public straight away because I think it takes a little bit of time to bed it down until we understand what it is, because it's a very complex procedure," he said.
Mr Bell said it cost the charity abut £5m a year to run the day-time service, with the night-time operation costing a further £1m.
He added that there were two pilots flying at night because of the "complexity of the area", which amounts to about 3,500sq miles across the three counties.
"We have produced the safest, the most reliable, the most effective operation that we can, and using all the technology, all the aids to make this safe and effective," he said.