Syria doctor's family 'can investigate his death'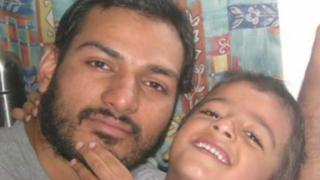 The Syrian government has told the family of UK doctor Abbas Khan it can send a team to Damascus to investigate his death.
Syrian authorities have said their post-mortem examination showed he killed himself while in detention.
But his family has said this is not credible as he was due to be released.
Mr Khan, an orthopaedic surgeon from south London who entered Syria to help civilians, was arrested 13 months ago.
Syrian authorities told the BBC that Mr Khan's family can arrange an independent post-mortem examination.
'Entered Syria illegally'
The government also said it would share the findings of its own post-mortem examination with the family.
The Syrian foreign ministry said the embassy of the Czech Republic has been given an expert report on the case of Abbas Khan who, the Syrian government claims, had "entered Syria illegally."
The ministry's statement, which was carried by the state news agency Sana, also quoted the country's Deputy Foreign Minister Faisal Mekdad calling on Britain to "stop using humanitarian cases for political purposes".
Mr Khan's family have previously said the doctor had been moved by the plight of refugees and worked in refugee camps in Turkey. He had not planned to go to Syria but travelled there to treat badly injured civilians.
Respect MP George Galloway, who has spoken to the Syrian authorities and was due to collect Mr Khan on Friday, said: "We know what the crime was: he was captured on the battle field in Aleppo. He had no right to be there.
"He was administering medical treatment in a war zone. This is obviously something that if he was captured he would be held for."
But he said Mr Khan was "elated" at the prospect of being reunited with his family.
A member of Mr Khan's family is expected to go to Damascus to collect Mr Khan's body when visa formalities are completed, the government said.
Mr Khan's brother Shahnawaz Khan said that the family just wanted his body to be released.
"We do not want any more investigations we want his body to be released and brought home," he said.
"The authorities allowing an investigation is... frankly insulting."
'Brutality' of regime
Sara Khan, the doctor's sister, told the BBC the Syrian authorities might allow her mother and brother Afroze Khan to go in on Thursday and the family was hoping Mr Khan's body would be released to them soon.
Mr Khan died days before he was expected to be released from jail.
A spokesman for David Cameron said: "The prime minister extends his sincerest condolences to Dr Khan's family. It is obviously a very difficult time for them.
"We have been in regular contact with them throughout Dr Khan's detention and we have also raised his case with the Syrian regime."
He said the doctor's death was "further evidence of the brutality of that regime".
Mr Khan, who worked at the Royal National Orthopaedic Hospital (RNOH) in Stanmore, north-west London, was detained 48 hours after entering Syria last November.
He had been moved by the plight of refugees and worked in refugee camps in Turkey before travelling to Syria to treat badly injured children, his family said.
Mr Khan's brother said that it was "pure fiction" that Mr Khan had committed suicide as he had written to relatives saying he was looking forward to coming home for Christmas.
Professor Tim Briggs, a senior surgeon at RNOH, who trained Mr Khan as an orthopaedic surgeon before he left for Syria, said he was "committed to a career in orthopaedics" and had gone to the Middle East "to help others".
He had worked as a specialist registrar at the RNOH from 10 September to 3 October last year.
On Tuesday, the Foreign Office said that the doctor had been "in effect murdered" by the Syrian authorities and at best his death was "extremely suspicious".
Mr Khan has criticised the British government for not doing enough to secure his brother's freedom.
He said the Foreign Office had treated his case as if he was a "wayward traveller in Dubai being caught drunk".
The Foreign Office said it had "consistently sought" consular access to Mr Khan and information on his detention, directly and through the Russians, Czechs and others.