Jayden Parkinson search leads to Didcot graveyard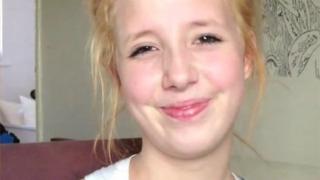 Police investigating teenager Jayden Parkinson's disappearance have spent the night searching a graveyard, cordoned off after a tip-off.
The 17-year-old, believed to have been murdered, was last seen at Didcot railway station on Tuesday 3 December.
Thames Valley Police said it obtained details of a grave at All Saints' Church in Lydalls Road, Didcot, Oxon.
Jayden's ex-boyfriend Ben Blakeley, 22, of Christchurch Road, Reading, has been charged with her murder.
Mr Blakeley, who has also been charged with perverting the course of justice, is accused of disposing of Jayden's body and lying to police about the last time he saw her.
At a press conference at the church on Tuesday night, Det Ch Insp Andy Murray of Thames Valley Police said: "This afternoon we got specific and highly relevant information, [which] led us to concentrate our search on this cemetery and to a particular grave.
"Officers are securing the site as we speak. Specialist forensic officers will be here for a number of days.
"Jayden's family are absolutely distraught."
Suitcases recovered
Det Ch Insp Murray said officers had already contacted the family associated with the grave, in Great Western Cemetery, next to the church.
A tent has been put up over the area in question.
Police said the families of those buried nearby had also been contacted and reassured graves of their relatives would not be disturbed.
Earlier, police renewed their appeal for details about a man seen struggling with a suitcase just outside the village of Upton, near Didcot, in south Oxfordshire, at about 02:00 GMT on 9 December.
The same man was later then seen with the same suitcase in the Lydalls Road area, at about 03:30 GMT.
Det Ch Insp Murray said detectives had since recovered several suitcases, one of which "may well be significant".
Police have also said there have been suggestions Jayden may be pregnant, but they have been unable to confirm this.
A 17-year-old boy, from Didcot, who has been charged with perverting the course of justice, has also appeared in court and is due back on 17 March.
He is accused of assisting in the disposal of Jayden's body and other evidence.
More than 100 police officers and staff have been involved in the search for Jayden.