Ex-teacher Jonathan O'Brien convicted of sex abuse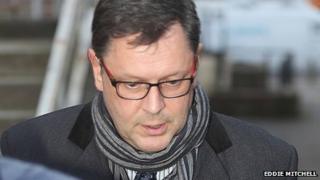 A former teacher has been convicted of carrying out a series of sex offences while he worked at private schools.
Jonathan O'Brien, 55, of Bosham, West Sussex, was found guilty of 17 counts of indecent assault and five of gross indecency at Chichester Crown Court.
Jurors cleared him of four assaults on the direction of the judge, who said two other charges were to lie on file.
The court heard he targeted boys aged 10 to 16 at schools in Worcestershire and Oxfordshire in the 1980s.
During the trial, jurors heard O'Brien abused "clever, slim, blond, blue-eyed, sporty boys" at Winterfold House School in Worcestershire, and The Oratory School in Oxfordshire.
'Photography lessons'
Prosecution lawyers said O'Brien was a "charming, convivial and attractive man outside of the school environment" and someone who would "easily dazzle those he met".
The court heard the teacher abused pupils at Winterfold in a darkroom under the guise of giving photography lessons.
But jurors heard it was "ideal" for O'Brien's purposes because it had a lock on the door and a warning sign outside.
After the hearing, Det Sgt Steve Cook, from West Mercia Police, said O'Brien had engaged in systematic abuse over a long period of time.
He said: "In doing so, he also disgracefully abused the position of trust he was in and that was particularly relevant in this case as he was teaching in boarding schools where the children were away from their families and had nowhere else to go.
"He exploited their vulnerability and they did not feel at that time that they could come forward because... they wouldn't be believed. Now they are extremely relieved that this has come out into the open."
Sentencing was adjourned to 7 February while reports are prepared.