East of England Ambulance Service new boss combining two jobs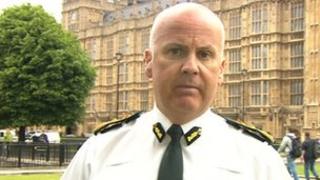 The new chief executive of the East of England Ambulance Service Trust (EEAST) will also retain his top job in the West Midlands, it has been confirmed.
Anthony Marsh, chief executive of the West Midlands Ambulance Service (WMAS) is to take over the helm of the troubled service from Andrew Morgan.
Dr Marsh will work four days a week on secondment to EEAST from 1 January.
The union Unison has expressed concern about the new chief executive combining the two roles.
'Need strong leadership'
In a statement, EEAST said Dr Marsh was being brought in to "accelerate improvement in service delivery and performance and build on the foundations for long-term sustainability.
"He will combine his new role on secondment to EEAST whilst continuing to be in charge of WMAS."
Gary Applin, Unison's branch secretary for the East of England service, said: "We would welcome a substantive chief executive officer without a shadow of a doubt, hopefully to take the trust forward and out of the mess it's currently in.
"We are in quite a situation where we need some strong leadership permanently... our concern is that he's doing two jobs and that's a little bit worrying."
North Norfolk MP and health minister Norman Lamb said he believed the service would improve, even with Dr Marsh as a part-time chief executive.
"There will be people in charge of the two services underneath him," he said.
"If he can deploy the structure and system that he has so successfully in the West Midlands to the East, I think that we can get a much better situation than we've had over the last two years."
Three star trust
Dr Marsh was commissioned to write a report into the East of England Ambulance Service Trust because of concerns over the trust's performance.
His highly-critical report in June said there was a lack of accountability throughout the organisation and made 24 specific recommendations, including cutting back on management to pay for more emergency crews.
Speaking after his appointment he said: "During my review I met many of the ambulance crews, control staff, as well as those who work in the support functions.
"The overwhelming message I got from them was wanting to make the service better for patients."
Prior to becoming chief executive in the West Midlands, Dr Marsh was chief executive of Essex Ambulance Service before it was reorganised and led it from being zero-rated to a top-performing three star trust.
The East of England Ambulance Service covers Cambridgeshire, Hertfordshire, Bedfordshire, Norfolk, Suffolk and Essex.