Bestival coach crash: Merseypride Travel loses licence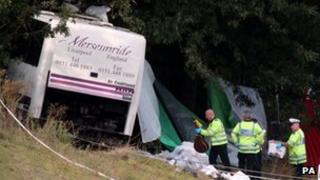 A travel firm that operated a coach that crashed on the way back from a music festival, killing three people, has had its licence revoked.
A 20-year-old tyre burst on the Merseypride Travel coach travelling from the Isle of Wight's Bestival to Merseyside in Surrey in September 2012.
An inquiry by the Traffic Commissioner heard shortcomings had been found in the firm's vehicle maintenance.
Its bosses were previously fined over the condition of another tyre.
Driver Colin Daulby, 63, from Warrington, passengers Kerry Ogden, 23, of Maghull in Liverpool, and Michael Molloy, 18, from Woolton in Liverpool, were killed when the coach crashed into a fence and tree.
The firm's boss Tracey Hannell was prosecuted and fined £4,300 in August after admitting allowing the use of a vehicle with a tyre with ply or cord exposed, and permitting the number of passengers to exceed the number of seats on the vehicle.
A verdict of accidental death was recorded at the inquest held in Woking, Surrey in July.
Surrey coroner Richard Travers said the "catastrophic failure" of a tyre had caused the accident.
The public inquiry, heard by Traffic Commissioner for the North West of England Beverley Bell in Goldborne near Warrington, was told the Driver and Vehicle Standards Agency had concerns about the firm's vehicle maintenance record.
Ms Bell revoked the firm's licence and banned Ms Hannell from working as a transport manager in the industry indefinitely.
She will decide whether to disqualify Ms Hannell, and business partner and father David Hannell, from running a coach operating firm in future at a further hearing in January.
Michael Molloy's mother Frances said: "To lose your child is life-changing, to know it's because of the sake of a tyre that was 20 years old is excruciating and it's outrageous it's allowed to go on."