Shortfall of 7,500 in blood donor study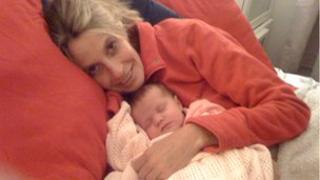 More than 7,500 donors are needed to take part in new research to determine how often people can safely give blood.
In the UK, donors can give every four months but in France and Canada, the interval is shorter - every two months.
NHS Blood and Transplant (NHSBT) is carrying out the research with 42,500 donors over the next two years.
Donor centres taking part include Newcastle, Liverpool, Oxford, Luton, Birmingham, Manchester, Nottingham, London, Leicester and Leeds.
The study needs 1,000 donors in Sheffield alone.
The aim of the interval study is to determine whether the length of time between blood donations can be tailored to suit people's age, weight, diet and inherited factors without depleting iron levels.
Induced coma
Backing the campaign for more donors is Pippa Saralis-Wheatley, who needed 17 units of blood after suffering a massive haemorrhage minutes after the birth of her daughter at the Royal Cornwall Hospital at Treliske on 3 December 2011.
The 46-year-old, of Lelant, was in the operating theatre for four hours then spent three days in an induced coma.
She was not expected to survive, but after three weeks in hospital she was well enough to leave hospital with her new baby.
Mrs Saralis-Wheatley, who has five children aged between two and 18, said: "It took the donations of 17 people to help me.
"Without the donors and the service I simply would not be here to hold my precious little girl and to see her first smiles - I am so thankful and thank God each day that I am still here."
Husband Mark stayed in the hospital room caring for baby Martha for three weeks.
The 46-year-old chartered consultant engineer said: "None of the people working on Pippa expected her to survive - but thank God they did not give up.
"All this time I sat in the small room where Martha was born - I held tight to this helpless baby wrapped only in a towel and prayed for her mum to be saved.
"Occasionally I wandered out looking for news and now and again somebody would come and say 'We are doing all we can' - thank God they did."
'Mixed picture'
During the study men are allocated eight, 10 or 12 week blood donation intervals and women randomly allocated to 12, 14 and 16-week intervals.
A spokesman for NHSBT said: "In Canada and the US, the interval is eight weeks for everyone, in France it's up to six times per year for men and four times for women.
"In Australia it's once every 12 weeks for everyone - so it's a very mixed picture - some countries err on the side of caution and impose intervals which are designed to be safe for everyone.
"The interval study will hopefully be able to set bespoke interval periods for different people, depending on certain characteristics - this is why it is so groundbreaking."