Bishop John Packer's' pilgrimage send-off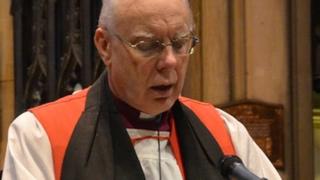 Hundreds of walkers joined the Bishop of Ripon and Leeds on his final Boxing Day pilgrimage from Ripon Cathedral to Fountains Abbey.
The event was the Right Reverend John Packer's last major public duty before his retirement at the end of the year.
The walk followed the route taken by a group of Cistercian monks on 26 December 1132 before they founded the abbey, now a World Heritage Site.
Ripon Cathedral will host a farewell service for Bishop Packer on 5 January.
The bishop described the Boxing Day pilgrimage, which has attracted more than 1,400 participants in recent years, as "one of the highlights of his year".
'New chapter'
The four-mile walk started from Ripon Cathedral and followed the banks of the River Skell out of the city of Ripon, through the Studley Royal deer park and on to the ruins of Fountains Abbey.
It then concluded with a short service of carols and prayers.
He said: "This year in particular I will be looking forward to a new chapter in my own life and to a new chapter in the life of the diocese."
The existing Anglican diocese of Ripon and Leeds, which covers North and West Yorkshire with its cathedral in the city of Ripon, is to merge with the dioceses of Bradford and Wakefield next Easter.
The newly-created Diocese of West Yorkshire and the Dales will be led by a new post of Bishop of Leeds.
After Bishop Packer's retirement, the Bishop of Knaresborough, Bishop James Bell, will have temporary responsibility for the old diocese.