Jayden Parkinson: Ex-boyfriend Ben Blakeley on murder charge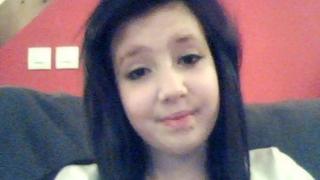 The ex-boyfriend of a missing teenager from Oxford has appeared in court charged with her murder.
Jayden Parkinson, 17, was last seen at Didcot railway station on Tuesday 3 December. Officers are continuing to search for her body.
Ben Blakeley, 22, of Christchurch Road, Reading, also faced a charge of perverting the course of justice when he appeared before Oxford magistrates.
A 17-year-old boy has been charged with perverting the course of justice.
Mr Blakeley, who is accused of disposing of Jayden's body and lying to police about the last time he saw her, was remanded in custody.
He is due to appear before Oxford Crown Court on Tuesday, when a judge is set to decide whether he should be granted bail.
Villages searched
The 17-year-old, from Didcot, who is accused of assisting in the disposal of Jayden's body and other evidence, was arrested after walking into an Oxfordshire police station last Friday.
He was also remanded in custody until Tuesday when he will be brought before a special sitting of Oxford's youth court.
Earlier, police called on the public to "refrain from carrying out their own searches" for Jayden.
She was seen on CCTV boarding a train from Oxford railway station to Didcot Parkway at 16:07 GMT on 3 December.
The last reported sighting of her was at Didcot station later the same day.
Officers have been searching in Didcot and around the village of Upton.
Jayden was a pupil at Didcot Girls' School until last year.
Head teacher Rachel Warwick said: "We're all deeply concerned about her welfare.
"We have appropriate support in place for students and staff during this difficult time."