Dorset, Somerset, Thames Valley and Chiltern air ambulances cleared to fly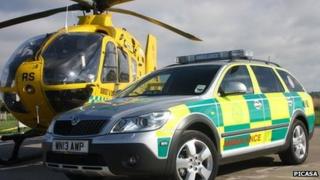 Two air ambulances in the south and west have been cleared to resume normal flights after being grounded by the discovery of a technical fault.
The Thames Valley and Chiltern and Dorset and Somerset air ambulances were suspended from operations on Thursday to allow for investigations.
By Sunday morning, operator Bond Air Services had cleared both EC135 aircraft to return to service.
The EC135 is the same model which recently crashed in Glasgow killing 10.
An issue with the fuel indicator system on one of its aircraft led Bond Air Services to suspend operations as a precautionary measure.
They worked closely with Eurocopter to identify and rectify the defect.
Mark McGeown, chief executive of the Thames Valley and Chiltern Air Ambulance, stressed the safety of patients and staff was their first priority.
He said: "Obviously, we are pleased to be able to resume normal operations.
"I would like to thank our colleagues in the South Central Ambulance Service and the Hampshire and Isle of Wight Air Ambulance for helping us maintain our emergency cover during these last few days."