Midlands Air Ambulance helicopters back in service after grounding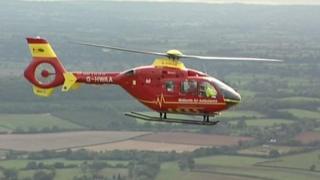 All three helicopters used by Midlands Air Ambulance are back in service after they were grounded due to safety fears.
Bond Air Services had suspended flights on all EC 135s - the same model that crashed into a pub in Glasgow, killing 10 people - after a fault was found.
The ambulance service said helicopters based in Worcestershire and Shropshire had been cleared to fly from Sunday.
The air ambulance based at Tatenhill in Staffordshire resumed operations on Friday, it said.
A spokesperson for the service said there were no major reported incidents while the helicopters were grounded.
"As a service we still had access to air ambulances operated by Warwickshire and Northampton Air Ambulance and Derbyshire, Leicestershire and Rutland Air Ambulance so there was never any worries about patients being put at risk," they said.
"In addition, crews that would have been flying used land vehicles as they would do if bad weather stopped the helicopters flying."
Midlands Air Ambulance has bases at RAF Cosford in Shropshire, Strensham services on the M5 in Worcestershire and at Tatenhill airfield.