MP Lucy Powell responds to 'lazy MP' Sun newspaper list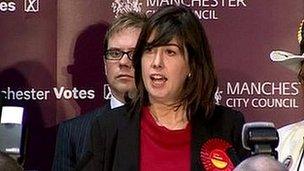 An MP says she is "appalled" she was listed in a newspaper's "Top 10 laziest MPs" list that was based on her voting record while she took maternity leave.
Lucy Powell, Labour MP for Manchester Central, featured in the The Sun's list, which was compiled "in terms of turning up to vote in the Commons".
The 39-year-old MP said "nothing could be further from the truth" as she continued to work while expecting but did not go to London to vote.
The newspaper said the online version of the story had been removed and the article was under review.
Ms Powell said she noticed she was on the list when she "started to get texts and Twitter messages this morning".
She said: "On further investigation I realised they had based their analysis on my voting record.
"Of course, I've had a few months off from Parliament this year because I've been on maternity leave and I've had a baby.
"While I was having a baby I was still doing all of my constituency case work and lots of other aspects of my job, I just wasn't going down to London to actually vote because I had been paired."
Pairing is an arrangement between two MPs of opposing parties that allows them, with the agreement of the whips, to miss votes in the House.
Ms Powell added: "It [a voting record] is not a measure anyway of how effective you are as an MP, but in my case what made it worse is I was an MP having a baby.
"The fact that they couldn't take this into account just shows what a poor piece of research it really was."
The MP said she acknowledged the apology from The Sun but has called for "a full apology in print in the newspaper".
Related Internet Links
The BBC is not responsible for the content of external sites.