Kent trust says running Crowborough birthing unit 'possible'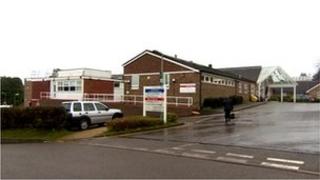 A Kent hospital trust has said it could consider taking over a threatened maternity care unit in East Sussex.
Crowborough Birthing Centre, based at Crowborough Hospital, had to close for four days in October because of staff shortages at a hospital 28 miles away.
It led to a petition calling for the centre to be transferred to Maidstone and Tunbridge Wells NHS in Kent.
The trust said it would look at the possibility of providing services if it had the support of all concerned.
A statement said the option would have to be backed by "both the current provider, commissioners and any consultation outcome".
Further closures feared
East Sussex Healthcare NHS Trust, which runs the unit, said sickness and a shortage of agency staff at the Conquest Hospital in Hastings had led to the closure so that midwives could work there instead.
Campaigners who started the petition to transfer the centre said they feared further closures.
Earlier this month, commissioners set out six options for East Sussex maternity care - four include keeping a midwife-led unit at Crowborough.
Responding to the calls to transfer the unit to Kent, East Sussex Healthcare said options for the future delivery of its maternity and paediatrics services had been set out by clinical commissioning groups (CCGs).