Jayden Parkinson case: Murder police seek suitcase man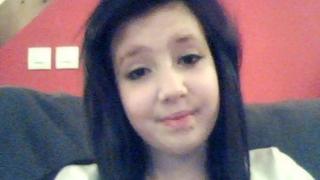 A man seen with a suitcase may hold the key to the disappearance of a teenager who detectives fear has been murdered.
Jayden Parkinson, 17, was last seen on CCTV at Oxford railway station boarding a train to Didcot Parkway just after 16:00 GMT on 3 December.
No body has been found but murder detectives want to trace a man seen struggling with a suitcase in the area.
A 22-year-old man from Reading and 17-year-old boy are being held in custody on suspicion of her murder.
'Difficult to manage'
Det Ch Supt Andy Murray said police were focusing on trying to find a man who was seen with a large suitcase in a field in the small village of Upton in Oxfordshire in the early hours of Monday 9 December.
"That suitcase was large, it was heavy, it was difficult to manage and that man was having difficulty removing that suitcase from that area," he said.
Det Ch Supt Murray said the same man was seen in nearby Didcot about half an hour later.
He is described as white, aged about 20, around 5ft 7in (1.70m) tall with a slim or medium build and short dark hair. He was wearing light-coloured jeans.
The case on wheels he was pulling is described as made of light-coloured canvas, possibly pale blue.
Homeless hostel
On Friday night police recovered a recycling bin from a pub in Didcot.
An address in Abbott Road, Didcot, has also been cordoned off by police while a search is carried out.
Jayden was until last month living in Didcot with her mother.
She recently became homeless and had been living at a hostel in Oxford called 1 Foot Forward.
Police issued a CCTV image of her at Oxford railway station boarding a train to Didcot Parkway at 16:07 GMT on 3 December. She was then seen again when the train arrived at 16:27.
She did not return to the hostel as planned.