Alcohol link in US stair death of Briton Lynne Spalding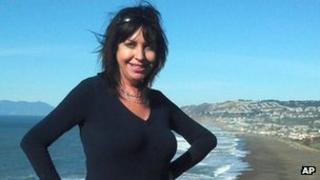 Chronic alcohol abuse was a factor in the death of a British woman found in a hospital stairwell 17 days after going missing, a US coroner has said.
Lynne Spalding, 57, from Haswell, County Durham, was being treated at San Francisco General Hospital when she disappeared on 21 September.
Her body was found on 8 October in a locked exterior stairwell.
Assistant medical examiner Ellen Moffat said Ms Spalding probably died of a chemical imbalance from heavy drinking.
The medical examiner's office report stated that Ms Spalding, who moved to San Francisco several years ago, had been dead for days before she was discovered.
She had been admitted to the hospital for treatment of a bladder infection, but was confused and delirious when she vanished from her room, the report said.
Ms Moffat noted that the former travel industry executive did not know the day or time or the reason for her being in the hospital.
Last month, Sheriff Ross Mirkarimi, whose department provide security at the hospital, admitted the search for Ms Spalding had been flawed.
Following her disappearance, the hospital was searched but sheriff's deputies failed to look in all the stairwells.
When a missing person investigation was launched an incorrect racial description was given for the mother of two and days passed before surveillance footage was shared.
Several employees of the sheriff's department have since been reassigned.
Ms Spalding was mother to a 23-year-old daughter and a son, aged 19.