Fake police gang jailed for robberies and kidnappings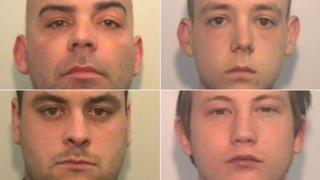 Four men who posed as police officers and handcuffed victims while ransacking their properties have been jailed.
In March and April last year, homes and jewellers in Greater Manchester, West Yorkshire and Lancashire were targeted.
Richard Clancy, Connor Macphee, Mark Worthington-Breen, all of Salford, and Matthew Cheston, of Warrington, admitted offences including conspiracy to rob and conspiracy to kidnap.
All were sentenced earlier at Manchester Crown Court.
Greater Manchester Police said the "convincing" gang used body armour, handcuffs, police hats, two-way radios and fake warrant cards to pose as policemen.
Victims were approached and told there was a warrant for their arrest. They were then restrained by handcuffs or cable ties while cash and jewellery were taken.
'Lucrative conspiracy'
Clancy, 27, was sentenced to 13 and a half years in prison. Macphee, 20, who also admitted weapons offences, was jailed for nine years.
Worthington-Breen, 22, who also admitted arson with intent to endanger life, was jailed for 11 and a half years.
Cheston, 31, who also admitted two burglary charges, was given a 12-year sentence.
Det Insp Alan Robertson said: "These men went to great lengths to obtain fake police uniforms and warrant cards.
"When they knocked on their victims' doors, they were so convincing those they targeted genuinely believed they were in trouble and the police had come to arrest them."
Elisa Hopley, from the Crown Prosecution Service, said: "The defendants were involved in a highly organised, violent and lucrative conspiracy.
"I would like to thank the victims who have shown great courage in coming forward and supporting the prosecution case."