Disabled workforce saved in former Remploy sites buyout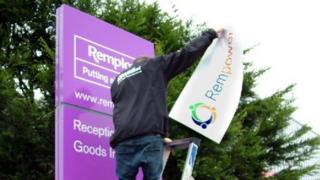 More than 200 jobs have been saved after an automotive business bought three former Remploy factories.
Arlington Industries Group said it planned to expand the business, which mainly employs disabled people, in Coventry, Birmingham and Derby.
Kevin Morley, in charge of newly named Rempower, said he would replace machines with people where possible.
Thirty-four Remploy factories closed last year because they were deemed not financially viable.
'Jubilant but exhausted'
Government funding for all Remploy factories was removed in September.
Prof Morley, a former managing director of the Rover group, said it was "humbling" to be taking over and said the announcement was met with "cheers and tears" in the Coventry factory.
He said completion papers were signed on Thursday night so he was "jubilant but a little exhausted".
His group plans to bring "funds and investment to the party" and has already identified machines that could be removed and replaced with people.
He aims to double the company's turnover in the next four years, from £50m to £100m, and added: "The more business we get the more people we'll be able to employ."
Rempower currently employs 216 people packing car components for companies including JLR, Ford and Unipart.
Increasing business at the Derby site has been identified as a priority, so employees working four days a week there will be able to work full time.
Vicki Lanigan, who has worked at the Coventry firm for 16 years, said: "The uncertainty has been awful, really terrible over the last couple of years, so the announcement was a huge relief."
She has chronic arthritis and believes the time off she's had for a series of operations would put off any other employers.
'Happy family'
"We're delighted, we're so happy here and there are lots of people here with learning difficulties who would find it really difficult to look for work anywhere else," she added.
Phil Ward, 55, used to be in engineering but, after suffering black outs that went undiagnosed for years, had to give up his job and did not expect to work again.
"I didn't work for three years or so, but then rehab sent me to Remploy for a week's training and then a two-week contract. I've been here ever since, that's 30 years.
"Everyone here knows about my heart condition and they look out for me. We look out for each other.
"If I had one wish it would be for this place to still be here in 100 years time.
"It's one big happy family... and now out family's going to be getting even bigger."