Thousand BMW workers given permanent jobs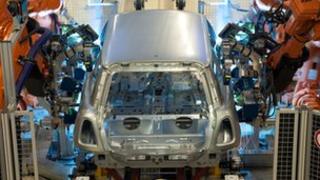 About 1,000 agency workers are to be given permanent roles at BMW, the company has announced.
The move will make staff at the Mini plant in Oxford, pressings plant in Swindon and Hams Hall engine site near Birmingham permanent employees.
The firm said it was due to a £760m investment into the new Mini, revamped engines and the expansion of its business at Rolls-Royce.
The jobs, being made in two phases, will see 700 start in the new year.
Recruitment for the remaining 300 contracts is expected to start in 2016.
The Unite union described the announcement as "a great Christmas present".
The plant in Oxford, which completes 4,500 Minis a week, recently installed 1,000 new robots as part of the investment announced last year.
New pressings technologies have been installed at the Swindon plant, and the Hams Hall engine plant is being equipped for a new generation of three-cylinder engines.